Laatst bewerkt: 19 september 2019
Deltares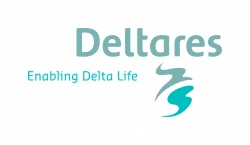 Deltares is an independent institute for applied research in the field of water and subsurface.
Throughout the world, we work on smart solutions, innovations and applications for people, environment and society. Our main focus is on deltas, coastal regions and river basins. Managing these densely populated and vulnerable areas is complex, which is why we work closely with governments, businesses, other research institutes and universities at home and abroad. Our motto is Enabling Delta Life. As an applied research institute, the success of Deltares can be measured in the extent to which our expert knowledge can be used in and for society. For Deltares the quality of our expertise and advice comes first.
At Deltares knowledge is our core business. All contracts and projects, whether financed privately or from strategic research budgets, contribute to the consolidation of our knowledge base. Furthermore, we believe in openness and transparency, as is evident from the free availability of our software and models. Open source works, is our firm conviction. Deltares employs over 800 people and is based in Delft and Utrecht.
Core values
Our world is changing fast. There will be 9 billion people by 2050. By that time, most of us will be living in densely populated cities in deltas and along coasts where water levels will be constantly rising due to climate change. And where, at the same time, there will be a constant decline in the supplies of safe freshwater we need. Not just for drinking, but also to grow the crops to feed everyone.
Our mission is perhaps more urgent than ever. We want to make a significant contribution to the quality of life in deltas around the world. That is why we also worked in 2016 on smart innovations and applications that benefit people, planet and society, that protect us from flooding, improve economic returns and help nature. We believe that we are only really relevant when our knowledge benefits society as a whole. We are committed to using our knowledge and innovations to contribute to a circular economy.
Working at Deltares
Working at Deltares means working in a knowledge intensive environment that is constantly changing. You have a lot of freedom to create your own work package within our strategy. You contribute to important themes in society.

We offer new graduates an informal, dynamic and challenging working environment. Your personal development is important to us. We offer excellent training opportunities and future perspective. Deltares offers an international working environment since we work with highly educated experts from all over the world. Our employees have 36 different nationalities. We offer special facilities on our campus, like daily lunch lectures, the Delta Flume (in which high waves can be generated) and our iD-lab (an interactive data research laboratory). Our terms of employment are competitive, with a good pension scheme and 34 holidays.