Laatst bewerkt: 8 March 2018
Topicus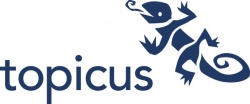 Topicus.
Nowhere else are people working so enthusiastically on solutions that increase people's self- reliance. We focus on important social sectors such as Healthcare, Finance, Legal, Government and Education. Nearly everyone in the Netherlands will encounter our useful and innovative digital products from time to time.
Internship and graduation
In order to gain new insights, we supervise around 100 university- and college-level students every year during their internship or final project. We offer you a chance to start working on one of our challenging projects right away as a full-fledged member of the team. You can learn a lot from your experienced team members and truly contribute to new ideas for challenging IT projects. We work closely together with several educational institutes and universities and we are familiar with the frameworks set by your course. We also put you in contact with fellow students, so you are never on your own. Your final presentation will be one to remember for the rest of your life, because you will give it during our popular internship/graduation convention. To prepare you for this challenge, we will give you a very useful presentation training beforehand.
Plenty of opportunities!
The atmosphere at Topicus is relaxed and informal. Nevertheless, we work on major and minor projects in a serious and professional manner. There is also plenty of room to develop your entrepreneurial skills and release your creative outbursts. We love people who are unafraid of experimentation. From Hackathons (let's hear all your brilliant ideas) to brewing our own beer (the one and only Gifkikker). This combination makes us a desirable place to work in the eyes of many students and starters. Not many who join our team leave, so make sure you are ready for us...
Show yourself
At Topicus, you can truly show off what you are best at. You get a chance to work on solutions to issues that genuinely affect our daily lives. Put yourself in the picture, go to www.werkenbijtopicus.nl or contact us directly by calling Monica Verkerk via 0570-662662 or sending an email to monica.verkerk@topicus.nl.